Finding Customers

Business Systems

Managing Employees

Leadership

Managing Money
Ready to Grow Your Business Fast?
Here's How I Grew Five Businesses, and Eventually Sold One to a Fortune 500 Company.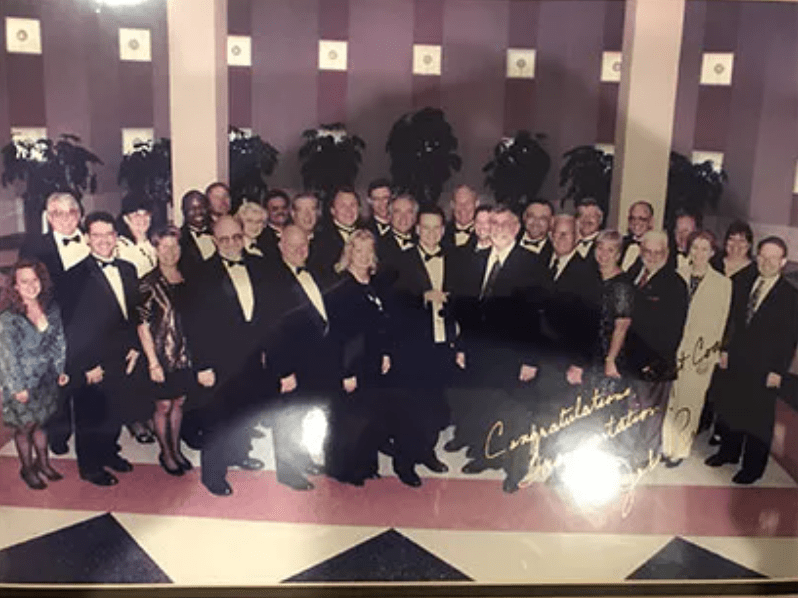 Alan Melton: Founder of a Firm With Lots of Drive

Alan Melton's Small Business Owner Story
If you are reading this story you are likely an small business owner or aspire to be one. I hope my story inspires you to accomplish great things!
Banker Turned Me Down.
At 26 years of age, I decided to take the plunge into small business ownership. After leaving the Upstate and managing a car rental company in Orlando, one afternoon I met after work with my future business partner, a sales rep for the same company. We complained about all the company policies we didn't like and decided that we could do it better. At the time my wife and I had no children; we really didn't have much to lose. If I was going to have the headaches anyway, I might as well be in my own business.
We put together a business plan and presented it to a bank. The banker was so impressed with my credentials and business plan that he promptly turned me down. He said, "Judging by your expensive suit, you will likely drain the business and will be soon driving a Maserati." Little did he know- that was the first nice suit I ever owned… I had bought it on the discount rack for 50% off. Thank God that my partner's dad felt sorry for us and put up his house for collateral on the $25k business loan. After selling a car, my wife and I threw in our life's savings of $5k; we quit our jobs, and became business owners when we founded East Coast Auto Rental. I made sure the loan was repaid in 18 months, and as hard as he tried, the banker never got my business in the future.
Two Very Different Small Business Owner Visions
My partner's vision of our business was of him, me and a car cleaner. My vision was a little bigger; I saw an international conglomerate! Like marriage, opposites attract; my partner's sales skills combined with my management skills proved to be a good combination. Additionally, his dad and my wife were partners in the venture; they both helped us get started.
Initially, we had five vehicles in our fleet, and soon they were all rented. Soon we realized that there was nothing to do except wait for their return. We brought in a television for "education." After having watched all the Bonanza and Big Valley reruns we got bored. Although we had learned much from Little Joe and Hoss Cartright, the cowboy hats didn't fit the image we wanted to project. Then we came up with another business brainstorm; we would start a ground transportation service. This would allow us to service the airport and would keep us busy when all the cars were rented.
Ground Transportation Services Were Born
We added a station wagon to the fleet. As customers would request one service or the other, we started to get creative with juggling vehicles that could be rented or used for transportation. If it had wheels and we had keys, it was gone! My wife had a Ford Escort and my partner's grandmother had a 1964 Pontiac Tempest; they quickly became business assets. Soon our repeat customers were requesting Grandma's car, but Grandma was not too happy about this. We had other juggling challenges too. More than once we showed up at the airport to pick up someone in a compact car, only to discover that they had a party of five and luggage for eight!
We worked without pay for a few months; my wife worked another full-time job to help us survive. Then we decided to take a whopping salary of $100 every other week. After a couple of years, we were making around $12,000 per year. We also worked around the clock; we took the business calls home at night. Fortunately, I had a business partner and a wife to share in this "fun." We would work 12 days straight and then get a weekend off. We were doing it all in the early days; accounting, sales, cleaning cars, chauffeuring clients, renting cars, delivering cars, and taking calls overnight for eight years. Hiring employees helped but we were involved in all aspects of the day to day operations.
A Turning Point in the Business
Seven years into the business we were still struggling; we were in the red and had a number of growing pains. From time to time my partner and I would "butt heads" over certain issues; he saw black and I saw white. We would end up at a standstill over the issue, and then our operation would suffer as a result of no-decision. At that time our annual revenues were around one million dollars. It became apparent to me that the business was growing beyond my ability to effectively manage it. I needed to personally grow. I hired a small business coach. He helped me to develop a plan. He ran "interference" for me and helped me develop a business plan for growth and organization. I credit the coach with helping us get the business headed in the right direction, and for being my friend and mentor over the years.
Help From Other small Business Owners
Soon thereafter I joined a group of other small business owners that meet monthly to improve their businesses. I described the head-butting problem to my group. They recommended that we appoint department heads to diffuse the conflict. I took their advice and hired sales, accounting, and operations managers. Now we had a team to help make decisions, and the head-butting stopped. Another benefit of the management team was that we all shared in the overnight calls; with two others helping we only had overnight duty once per week!
Small Business Development Center
The SBA's Small Business Development Center (The local SBDC is run through Clemson University) was very helpful to us; we attended their workshops, had MBA students help us on some projects, and they helped us secure an SBA Loan for a facility we built. A consultant also helped us to identify some profit opportunities and this translated into more pay for us. Eight years after we had started the company our salaries were equal to the jobs we had left and our pay continued to rise thereafter. However, we faced another challenge; car rental had become unprofitable as a result of our competition lowering rental rates. At the same time, my partner brought us an opportunity to provide ground transportation service for a new Ritz Carlton Resort. We closed down our car rental company and the Ritz Carlton became a $2 million account.
A small Business owner Exit without a Strategy
As the business matured we got involved with the Florida Sterling Governor's Award process. The Ritz Carlton had won the Malcolm Baldrige National Quality Award twice, and we saw the benefit of quality improvement for our customers and employees. It took us three years to become recipients, but in the process, we were transformed from a "Ma and Pop" to a mid-size company. Although we were not consciously developing an Exit Strategy, standardizing processes and developing infrastructure prepared the business for sale.
Before it was all over, we had started five companies and acquired five more. Our car rental, car detailing and car leasing companies had all failed. But the ground transportation service grew to 130 employees. With the help of a business broker, we sold the business to a publicly held company. Our small business owner journey had been fun and challenging! After helping other business owners in my industry, I had a desire to move back home to Upstate SC and on to my next phase in life; business coaching and brokering.
Conclusion
Years later as a small business owner and looking back at our companies that failed and the one that succeeded, it all boiled down to one thing; our perseverance. We simply gave up on the ones that failed. I have come to believe that if we are doing what we love to do, using our God-given gifts and talents, we will persevere and success will likely follow. On the other hand, if we are doing work that we don't enjoy, eventually we will burn out and quit. An important success key is to find other people who have the gifts to do the work that we don't enjoy.
Questions about our small business owner coaching services?
Call us at 1-888-504-0777,
or 
Enter your information below to start growing your revenues and profits today…