Ready to Grow Your Business Fast?
Here's How I Grew Five Businesses, and Eventually Sold One to a Fortune 500 Company.
Develop an Effective Thirty Second Commercial
There is a reason to develop a thirty second commercial. Have you ever felt like you were caught off guard when someone asked you what you do for a living? Perhaps you responded with one sentence that included your title and your business name. The person who asked the question may have moved on to someone else, quickly dismissing you in their mind. Or perhaps you went to the other extreme and rambled on and on, providing way too much detail until their eyes glazed over. Every business owner has experiences such as this.
Develop an Effective Thirty Second Commercial
Making a positive first impression is an important key to establishing credibility with contacts, referral sources, and prospective clients. Being able to confidently deliver a short, compelling self-introduction can lead you to follow up appointments, referrals, and new customers. Below are some tips to develop a compelling thirty-second commercial:
Be strategic.
Rather than just "winging it," take some time to develop your thirty-second commercial. Aim for impact, effectiveness, and results in your message.
Practice until you know it well.
Practice your short presentation until you can deliver it at a moment's notice. You will have many opportunities each day to use your thirty-second commercial with people you meet.
Talk about benefits, not features.
Your features are what you do in your business: your services or products. Your benefits are how your products/services impact your clients' lives: you help them make more money, give them more time with family and friends, etc. List some frustrations (client pain) that your clients experience and which your service/products eliminate. Below are examples of our business coaching benefits:
Client Pain
Tight cash flow
Missing family events
Can't find good employees
Coaching Benefits
Owner making more money
Getting dates with spouse
Excellent, loyal employees
Develop some short stories that illustrate your benefits.
These stories are one of the ways that you educate your contacts and move them to a level of trust in you. Think about how you have helped your customers in the past. Write down four to five sentences to describe how you impacted their life. You may begin with one story. But keep in mind that if you cultivate your contacts, you will communicate with them on multiple occasions and you will need to demonstrate your expertise with multiple stories.
1. First five to ten seconds: introduction.
Say your name, your company name and a brief summary of the benefits your company provides to clients. For example, here's my introduction: """My name is Alan Melton. I'm with Small Business Coach Associates. We help business owners earn more income while working fewer hours.""
Next twenty to twenty-five seconds: tell a short story illustrating your introduction.
"We were working with an HVAC company owner who had a large bad debt that was forcing him into bankruptcy. He was working 70 hour weeks and told me the number one thing he wanted was a date with his wife. We identified 12 areas of improvement that immediately increased his profits by more than $176,000 per year. Now he is working 50 hours per week and he has enjoyed a number of dates with his wife."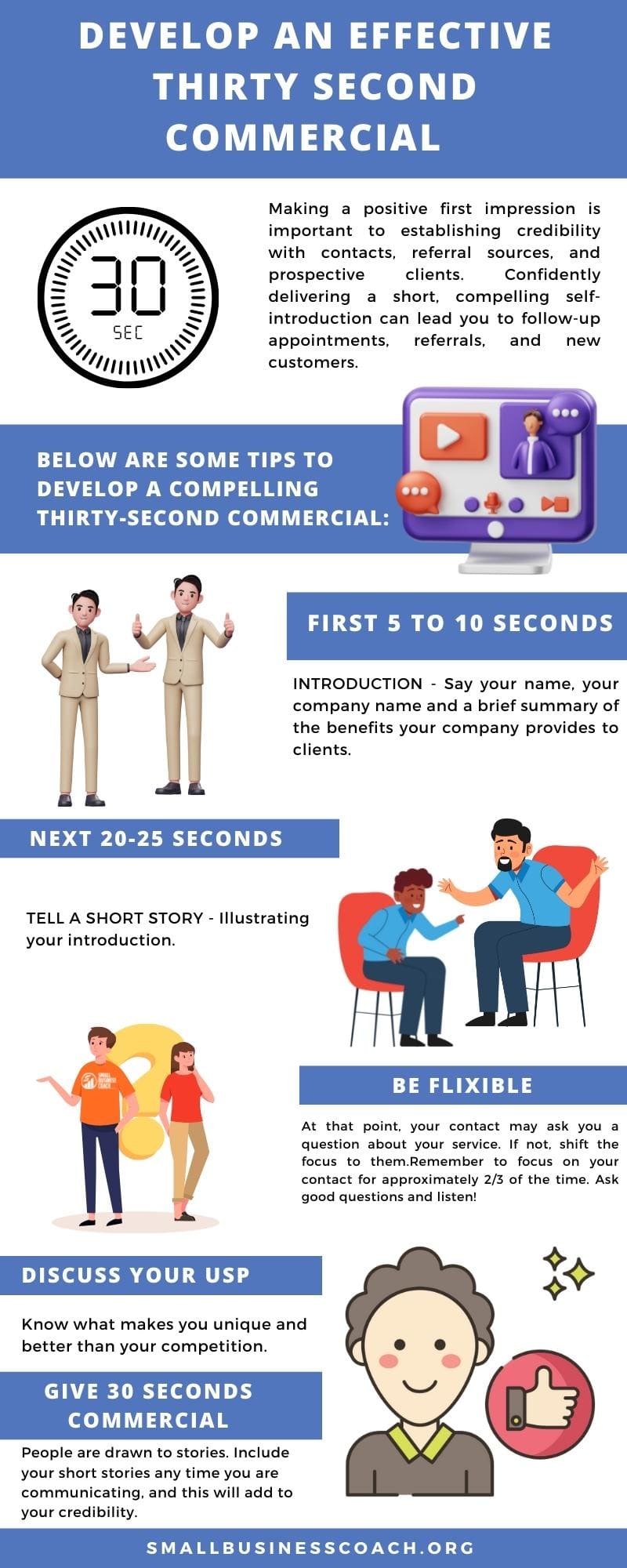 Be flexible upon completion of your story.
At that point, your contact may ask you a question about your service. If not, shift the focus to them. "Joe, tell me about what you do…" or "Tell me more about what you do…" Remember to focus on your contact for approximately 2/3 of the time. Ask good questions and listen!
Discuss your Unique Selling Propositions.
Know what makes you unique and better than your competition. A couple of the USP's for SBCA is the fact that our coaches have all been business owners themselves and we collaborate with one another to provide the best solutions to our clients. Some examples of that are our weekly coaching calls and the assistance we give to one another on coaching assignments. Recently Craig Reimer who formerly owned a construction company joined me on a business assessment with the owner of a construction company.
Expand your commercial to five minutes and twenty minutes.
From time to time you may have the opportunity to deliver a longer presentation to a networking group or other organization. You can easily expand your presentation by telling more stories to illustrate your expertise.
Give "thirty-second commercials" within any speaking or writing topic.
People are drawn to stories. Include your short stories any time you are communicating, and this will add to your credibility.
Questions about our small business coaching services?
Call us at 1-888-504-0777,
or 
Enter your information below to start growing your revenues and profits today…
Error: Contact form not found.