Ready to Grow Your Business Fast?
Here's How I Grew Five Businesses, and Eventually Sold One to a Fortune 500 Company.
8 Strategies to Promote Positive Customer Reviews
8 Strategies to Promote Positive Customer Reviews For Your Business
Positive customer reviews are a very important aspect to your business. Gone are the days when a catchy advertisement run across all available media platforms would direct all of the potential customers to your business. With time, trust issues have intensified quite a bit.
Today, most of your customers would go with a recommendation given by a friend or acquaintance rather than trusting the work of your sales department. They would rather trust a user's review in the comment section than your promises and guarantees given in the description. Individual reviews feel much more relatable to them than anything else.
Naturally, the wisest strategy to operate under such circumstances is none other than generating maximum possible customer reviews. But then again, the goal isn't as easy to achieve as it sounds.
Let us acquaint you with a few tried and tested strategies to promote positive customer reviews for your brand or business.

1. Develop customer-friendly strategies
Positive or negative-your customers won't ever leave a review until they feel welcomed to do so.  As per the latest product management trends, you need to optimize the company's strategies and policies so that they revolve around customers. Take the first step in genuinely connecting with them!
Create an online webpage and make it user-friendly, which will serve as a quick DIY reviewing portal.  You won't have to make calls, get them to fill survey forms, or anything.
After purchase, they can review the products directly on the website instead of contacting the company.  Personalizing customer service is another efficient customer-centric strategy.
In it, customers will receive custom and tailor-made solutions to their problems. Consequently, they will feel more connected to the store and would be willing to offer positive reviews.
2. Have frequent discount campaigns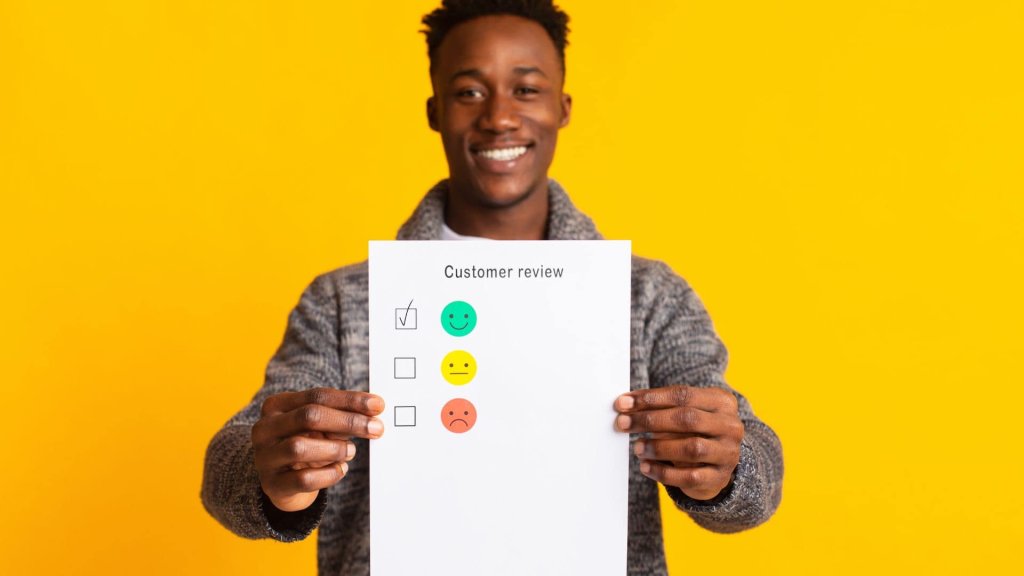 Well, one quick way to urge your clientele to leave a review is to offer a gift in return. Perhaps, you can offer a discount coupon or code. It will compel the buyers and users to leave a review, and most likely, a positive review.
In case your brand is tight on budget and cannot afford to give out discount coupons to every user that leaves a review, then we suggest you consider a lucky draw. Offer a free entry to the lucky draw to those who leave a review. However, make sure that the prize of the lucky draw is inviting enough. If it isn't, users might as well skip it. If you have a business that sells ergonomic furniture for WFH lifestyle, you could offer work from home accessories instead of discount coupons.
Also, if you run frequent discount campaigns now and then (without asking for the review), your clientele will most likely drop positive reviews. Who doesn't appreciate getting more for less?
3. Provides spaces for customer reviews
Your website will only serve to be helpful in drawing clients until they know you and search you up. But, what about all those potential clients who do not know you?
First things first, you should create business pages on different third-party platforms. Studies show that consumers trust Yelp and Facebook quite a lot when it comes to brand reviews.  You can enable your customers and potential clients to give reviews on these platforms by creating your business pages.
Build a new page or claim a business; the selection depends on you. As a seller, you can establish a presence in e-commerce stores like Amazon and eBay.
Once you start receiving positive reviews on these platforms, you can feature them on your website and social media handles too. For your ease, you can use customer feedback software. This will help you collect and analyze your overall customer feedback seamlessly.
4. Build trust
When a user reads a positive review of a particular product, he may feel encouraged to buy it. However, if he scrolls down and reads a list of only-positive reviews, clouds of doubts may surround the reader. Ornate compliments will only further intensify these doubts. Thus, shaking your potential buyer's trust in the authenticity of your brand.
For that very reason, businesses need to share both positive and negative reviews of their customers. Share them just as is and refrain from editing. Doing so will have your audience perceive your honest and dedicated intentions.
5. Show your appreciation for customer reviews
Reciprocation in all matters is of immense importance. Your customers will only feel motivated and encouraged to provide reviews when they know the value of it.
As a business, you should make your audience and potential clients aware of the importance of review-giving.  Appreciate your clients giving reviews through visual content. You can use social media tools, like Instagram and Facebook, to share encouraging infographics and posts.
For loyal customers, you can provide a special discount or send promotional products. Post about these online so that other customers feel motivated about expressing their thoughts.
6. Get to know your audience
When your clients pay a visit, be it in your virtual store or physical store, make sure that you get to know them a little more than just knowing what they need from you. Request for their email address so that you shall maintain frequent contact with them and keep them updated on the latest arrivals and trends.
We understand collecting so many emails can be rather hectic. Whether you do it digitally or manually, the struggle is more or less the same. Hence, for your convenience, you can make use of checklist software.  It will serve as a tool and organize the process to make it easier for execution.
7. Host events
Another amazing way to get positive client reviews is to host events. You can come up with different events on your own or collaborate with other brands. For example, if you are a food brand, you can host a food festival in collaboration with ingredient manufacturing companies.
In these events, your customers and interested people can learn more about your business. You can organize various activities so that you can connect to your audience on a more personal level.
You can even offer samples to the audience, and ask for reviews directly.  Hence, you can get lots of positive reviews to feature on your web page.
8. Focus on packaging
Customers simply love it when the packaging of the product is good.  It is the extra cherry on the top that they do not expect, and can help you increase chances of positive reviews.  You can make a unique and aesthetic packaging that comes with a card or something extra.
Conclusion on customer reviews
Now, of course, you can experiment further with these strategies. And devise a custom one. In actuality, it always works best this way. Begin working with any of these general strategies and add elements of yours along the way. Doing so will help you get to a strategy that yields the maximum possible results for you. Good luck!